August 11, 2015
"I was raped from age three and throughout my childhood," Lynn Wellman, the founder of 'Stop Feeding the Predators' (SFTP) stated to the Examiner this week. "It was not by the same person over and over, but various people who were trusted by my family."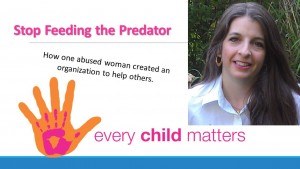 Wellman's story of abuse evolved into taking charge as a way to rid the guilt and shame that dominated her life. Eventually, she has joined in with numerous hours of training and information from other organizations, but considers her experience to be the biggest strength in offering understanding to help others and obtain healing in their lives.
After founding SFTP in 2007, McClain worked to acquire non-profit 501c3 status in 2011.
"The first person I helped find healing from sexual assault was a 90 year old man," Wellman smiles. "He later became my best friend. His wife never told him that she had been raped. He found out in her diary after she died. He was devastated."
Motivated, Wellman toured eight states in nine days in 2013 to promote SFTP on an "East Coast Tour," she explained. "As a result of that, SFTP now has a radio program that airs through internet radio out of New Jersey. In 2014, I rented an office and we just signed another lease for 2 years."
SFTP now holds support group meetings, gives presentations, and helps people effected by sexual assault.
"I don't blame my mom," says Wellman. "My Mom didn't experience childhood sexual assault personally so she didn't know what to look for and she had no idea what people were doing to me. For example, she didn't know that when she stepped out of the room after the doctor completed my kindergarten physical, he raped me."
"As is typical with young girls who are sexually assaulted, I became a flirt, to say the least," Wellman said. "Relationships were unhealthy and usually abusive. I finally got myself together and was ready for a healthy relationship. I met a man who worked at my office. He was in college and our families knew each other. He and I had not met previously. He had no addictions and was respectful towards me. We were married in 1989."
Wellman revealed that weeks prior to a car accident she was in, she "'knew' something was going to happen."
Again, just "twenty-five minutes before the accident, I knew it was going to happen," she revealed. "The crash caused brain damage that interfered with my short term memory and emotional connections. I was kind of like Spock from Star Trek. Most of my decisions were based on what was the next logical step."
Ten years later, Wellman's husband attempted suicide. She said it was sudden and unexpected, but "it was revealed that my husband had been raping one of my children. The effects of what he did to our family tore everyone apart. It was as if the entire family had been raped."
"I learned this abuse had been happening for many, many years," she continued. "My brain damage helped me to deal with what needed to be done next because I was not even angry at that time. I simply did not have the brain connections to emotionally deal with it at that time."
By 2007, "the brain damage healed and I was hit all at once with the effects of what had happened," she recalls. "I was dealing with all the emotions at once."
With the encouragement of a friend after the crisis settled somewhat, Wellman planned on writing a book entitled "Stop Feed the Predators." As she began writing, it was decided Wellman should start a non-profit organization "because I could help a lot of people." The book, unfinished at 16 chapters so far, could come out later, but he felt I should get to work helping others. Wellman said she prayed and decided to not worry about the money, that she would help others.
"We work with people who were abused when they were younger, parents who kids have been assaulted, and teach people how to help protect their kids," Wellman tells. "We are in the process of creating a program that will help teach children how to know when and whom to tell if anything happens."
New episodes of this emotionally charged education program are released on Saturdays at 7 p.m. CST.